Payment Infrastructure for Web3
Simplify your team's finances with Streamflow's Token Operations Platform and SDK, offering access to Customizable Vesting Schedules, Token Locks, On-Chain Payroll Management, and more.
#1 Token Vesting protocol on DefiLlama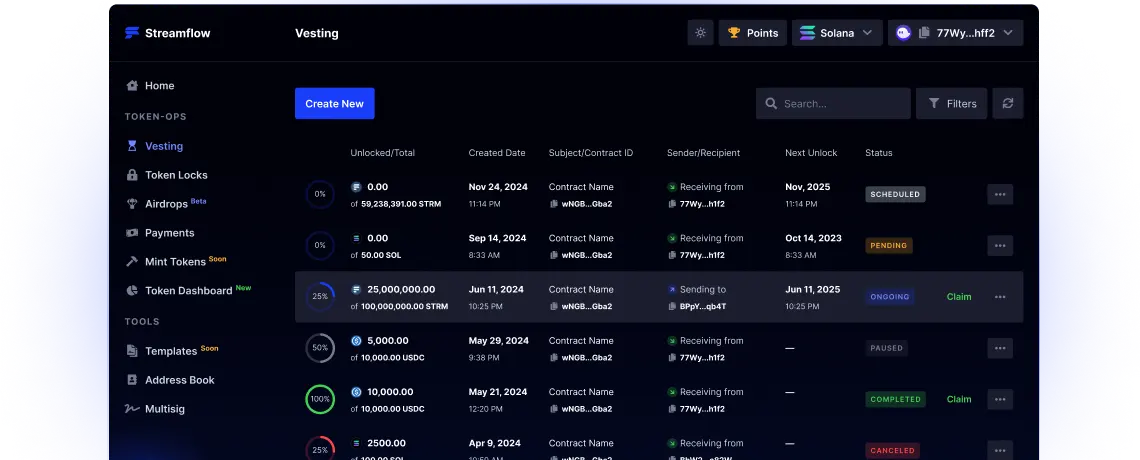 Current TVL
$148.6M

All time high TVL
$1B+

Overview
What can you do with Streamflow?
Streamflow provides a product suite every organization can use to manage team finances on-chain, whether you're an early-stage crypto startup or a traditional company looking to make the leap into Web3.
Our suite of no-code tools allows you to automate customizable token vesting schedules, token locks, and payroll —all the tools required to manage finances in Web3.
Vesting
Token Vesting
Create token vesting contracts to lock up and distribute tokens to stakeholders and other recipients on a custom schedule. Token vesting with Streamflow grants you access to features like cliff dates, transferrable payments, automatic withdrawals, and much more. Recipients of vesting contracts can view the progressing schedule and claim tokens from our unified dashboard, minimizing friction for recipients while adding a layer of transparency.
Learn More
Payroll
Stream Payments
Minimize employee onboarding time and cut costs on payroll management with programmable payments. Using programmable payments, you can pay employees weekly, bi-weekly, or even monthly or allow your employees to withdraw funds in increments throughout the pay period —enabling real-time payments.
Learn More
Commitment and transparency
Token Locks
Introducing our Token Lock feature, designed to safeguard your assets while offering flexibility and transparency. Set the token, unlock date and wallet to unlock to and you're ready to go. Whether setting up employee unlocks or locking liquidity pool tokens to engender trust in your community, our Token Lock system offers both security and peace of mind in one intuitive package.
Tokenomics
Public Dashboard
Our Public Dashboard is tailored to provide a holistic view of you're token contracts. Boost transparency and allow your community to monitor token distributions, and gain insights into every contract in a sleek, intuitive interface ensuring everyone stays aligned with real-time data at their fingertips.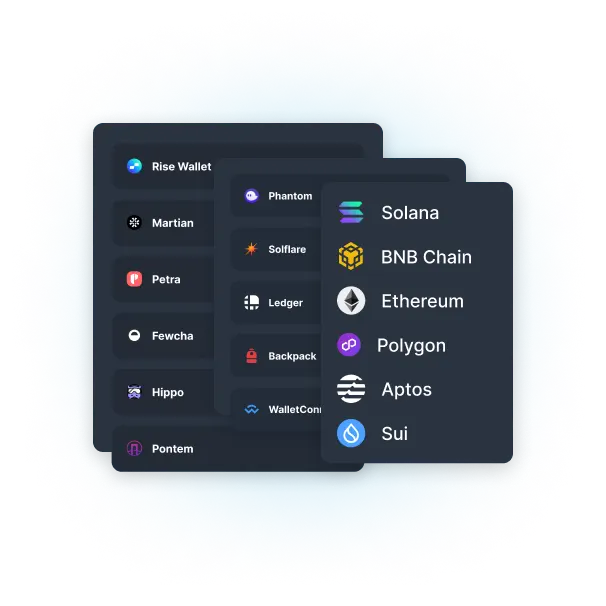 Multichain
Different Networks
Streamflow is available on multiple blockchains, providing users with greater accessibility. Our platform is currently live on the following networks:

Solana

Aptos

Ethereum

Binance
Polygon

Sui
Trusted By Our Clients










And many more, full list on the About page
Developer
Build On Streamflow
Use our SDK to enable your dApp with programmable payment features or create a novel use case.
Subscriptions (content, services, etc.)
Milestone based donations
Vesting contract auctions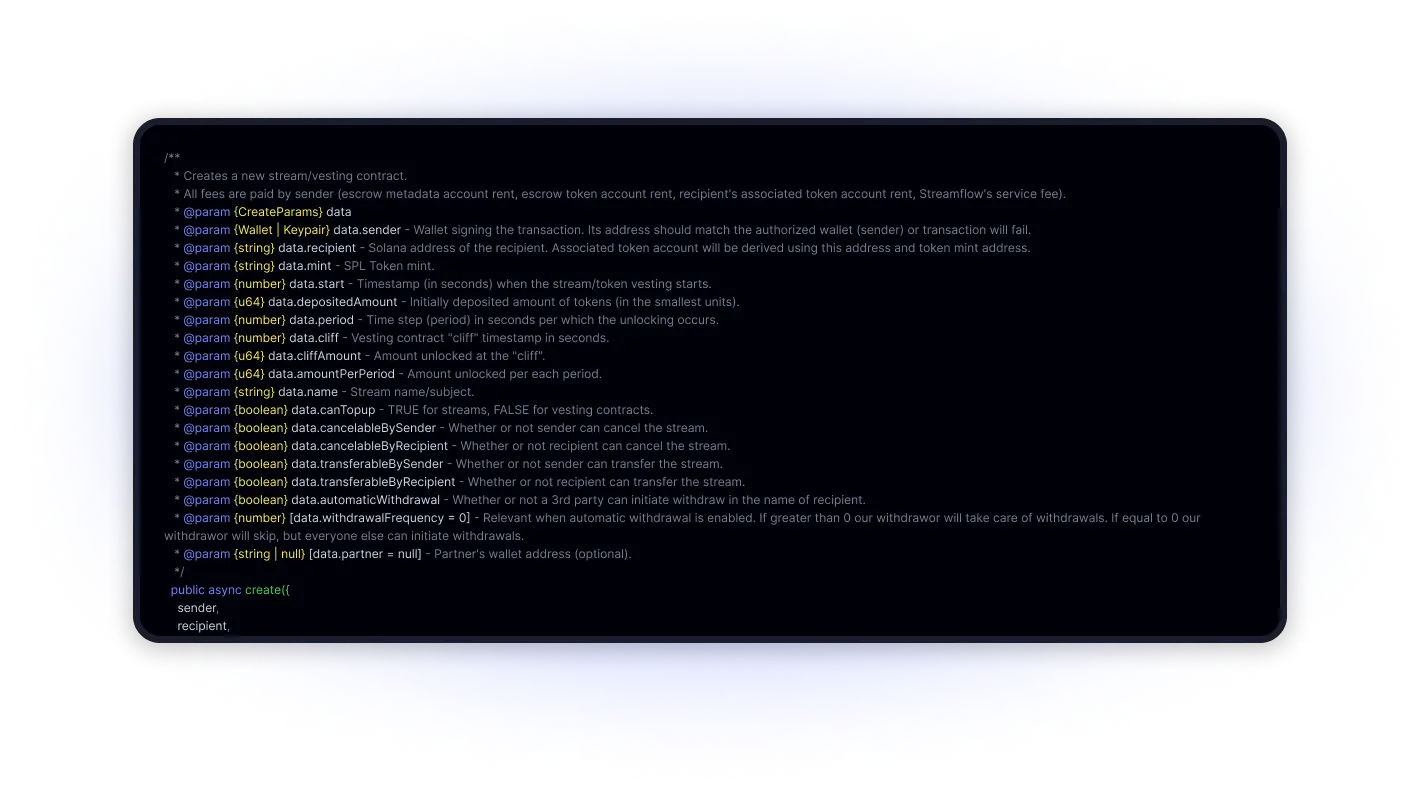 Verified and Acknowledged
Find Us On Solana Docs
Streamflow is listed in the official Solana documentation under 'token vesting'.
We have worked hard to drive the token operations ecosystem forward on Solana and we're honored to be acknowledged.

https://

spl.solana.com/toke...
Backed By

For a full list of investors, go to About page
What Others Say
Testimonials
While on a mission to deliver best-in-class token operations, we've been lucky to have some fantastic clients.
Streamflow offered Compendium complete token vesting options for our token vesting contract. We chose Streamflow over other products in the Solana ecosystem due to its ease of use and the additional options the user can employ when creating a vesting contract. Try to find another token vesting platform that provides this customizability. I'll wait.

Compendium Finance
It's awesome. Smoothest streaming & vesting dApp around. Very easy to use.

Grape Protocol
Setting up vesting schedules was very quick and easy! The team is very professional. Looking forward to use Streamflow again, and again! :)
CaveWorld
Useful platform and simple to use.

Starbots
Streamflow is great and trustworthy technology for managing for vesting and token locks

Nosana
To rate our services yourself, go to the Decent Reviews
Meet The Streamflow Team
About
The Streamflow team is a passionate, dedicated team of glass eaters with a strong belief in the larger vision of the streaming primitive and driven to
unlock this value for the world.
Tweets About Streamflow
What people are saying about us on twitter
Get Started
Leverage our powerful programmable payments for token vesting, token locks, and payroll contracts today.