Build with Streamflow
Streamflow's protocol is a powerful and highly configurable streaming primitive ready to power your next project.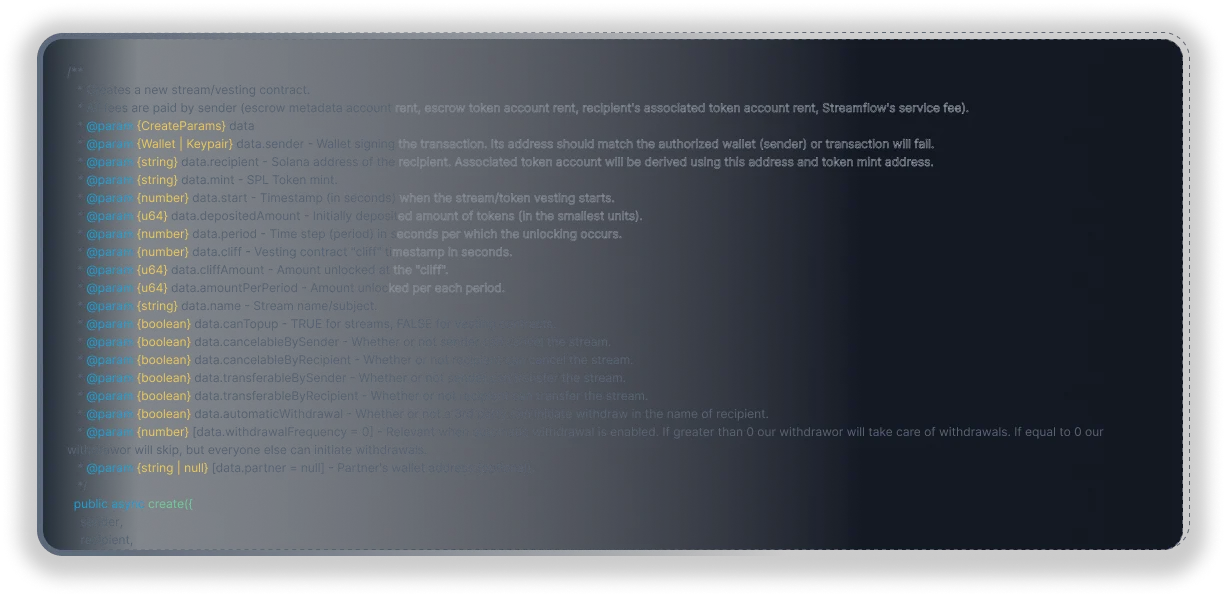 Powering programmable payments for Solana projects

synesis.one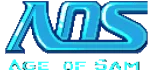 AGE of SAM

Grape Protocol

Realms
Build on Streamflow for every use case
The streaming primitive is a greenfield of possibilities
Stock Grants
Vest tokens with ease
Salaries
Pay or get paid every second
Subscriptions
Pay subscriptions only for time used
Direct Payments
Send & receive a direct stream
Employee Trial Period
Pay only while trial is active
Automated Investing
Ongoing investing on auto-pilot
Pay Per Service
Start & stop stream once service ends.
Parking
Pay parking only for time used
Consulting
Stream tokens during service
Live Events
Stream tokens to attendees
Travel Rentals
Pay rentals for bikes, scooters, cars
Donations
Receive donations in real time
Fundraising
Fundraise with milestone unlocks
Family Allowance
Stream allowance over time
Pension Plans
Set cliff with gradual unlock
Rental Payments
Pay pro rata
...and many more.
Fully featured, powerful programmable payments
The Streamflow protocol unlocks a host of exciting configurable transaction types - waiting to be explored!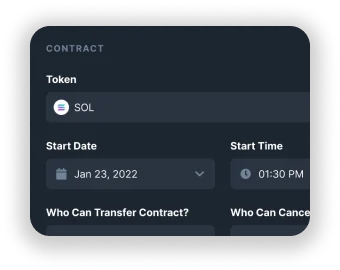 Create Stream
Create a stream to direct value from one wallet to another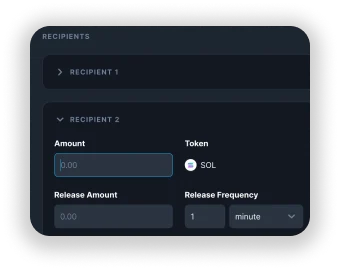 Batch Create Stream
Users can initiate programmable payment to multiple recipients at once - with no limits
Withdraw from Stream
Set how the recipient can withdraw their unlocked value to their address.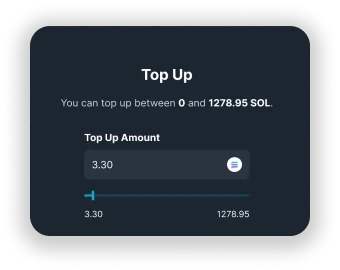 Top Stream Up
Need to add more funds to an ongoing stream?- 'Top up' your programmable payments to increase the value of an existing contract.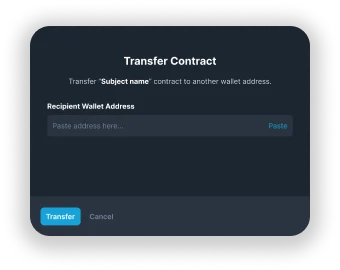 Transfer Stream
Users can transfer active programmable payments to other SPL wallets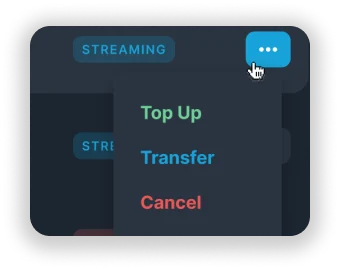 Cancel Stream
The creator of each stream can cancel at anytime, returning locked funds to the sender.
Get Unlocked Amount
Tokens become "unlocked" when they're released from the contract. Users have the ability to influence the delivery of tokens as they unlock.
Build with Streamflow
Check out our SDK and other developer resources in our documentation.